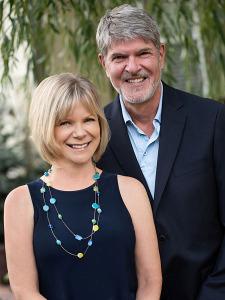 Susanna Cohen-Eckerman & Tim Eckerman
Broker Associates
Metro Brokers, Liberty Associates, LLC
Metro Brokers, Liberty Associates, LLC
8480 East Orchard Road
Greenwood Village, Colorado 80111
Susanna Cohen-Eckerman, Realtor
GRI: Graduate of the Real Estate Institute
ALHS: Accredited Luxury Home Specialist
QCC: Quality Construction Certification
Phone: 303-880-4700

Tim Eckerman, Realtor
Phone: 719-440-9800
MEET SUSANNA COHEN-ECKERMAN AND TIM ECKERMAN
Susanna and Tim specialize in properties on or near private or public golf courses. Their focus is homes actually "on" the course. In other words, a home with a view of the golf course; one that fronts or backs to a tee box, fairway, or green. Most golfers would LOVE to live on or near their favorite golf course! Many other people love the open space and lush green views of living on a golf course. And here in Colorado, there are some magnificent golf course views! If you are interested in golf course living, please contact Susanna or Tim. They'll help you find the home of your dreams!
With her 30+ years of Realtor experience, Susanna has helped hundreds of people buy and sell homes all over the Denver metro area. In addition to her deep experience, Susanna has always worked to learn more so she can provide the best knowledge as well as experience for her clients. She is a Graduate of the Real Estate Institute (GRI), Accredited Luxury Home Specialist (ALHS), Certified Distress Property Specialist (CDPE), and she has a Quality Construction Certification (QCC).
Tim has been a real estate investor since buying his first investment property more than 40 years ago. After leaving the computer industry in 2019 he became a full time Realtor. "In the computer industry I was rarely able to work directly with our customers. Now, as a Realtor, I get to work directly with people every day. It's so satisfying to help our clients sell their home or buy the home of their dreams!"
FIND YOUR DREAM HOME NOW
Many people believe they have to buy a large, expensive home to live on a golf course. In fact, there are many beautiful golf course single family homes, condos, and townhomes to choose from in a wide range of prices, from less than $500,000 to a million dollars and more. If you are looking at a lifestyle change and golf course living, then a condo, patio home, or townhome on the course might be the ideal choice. There are several communities to choose from, especially in the South Metro Denver area.